About Earthdance Landscaping

Earthdance Landscaping Inc. was founded in 1996 and is an award-winning residential and commercial landscape design and build firm located in the heart of Niagara Falls serving the Niagara Region, St. Catharines and beyond. Due to dedication and innovative ideas in landscape design and maintenance, Earthdance has been able to delicately balance growth and personal relationships to those we do business with.
With our educated staff and continued growth and devotion, we will achieve our success. Earthdance is your premier source for skilled landscape architects and landscape designers that specialize in designing residential and commercial properties. We are a full service landscaping company and can help you with any type of project, regardless of size and scope.
Customized To You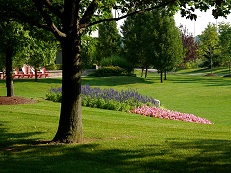 We customize each project we undertake and bring your landscape and garden design ideas that are unique and personally suit your outdoor property vision. We set out to enhance the aesthetic design of your residential or commercial property while allowing you to still get practical use out of your outdoor spaces.
Design & Build
As a design build firm we work with you to produce the highest quality design concepts and ensure in the precise installation. Going the extra step to fulfill our clients needs is our job. If you have any suggestions regarding how we might serve you better, please feel free to let us know. We carefully consider all of your recommendations.
At Earthdance Landscaping, we look forward to building a relationship with you. Please take this opportunity to inform yourself of our services and view the display of our work. This website will provide you a better understanding of the quality work we produce and the extra care we take in completing all of our projects.